Around the Campfire: Lessons Learned During a Global Pandemic
I went camping for Father's Day this weekend. We hiked and biked, ate too much, and had amazing conversations around a roaring campfire. One common thread was the COVID-19 global pandemic. Where were we when the state shut down, what grocery store items could we not get our hands on, and how much had our mental health declined? But another conversation I heard over and over again, was what lessons we'll carry with us.
Jeff, a recently retired technical advisor, said he'd continue to wear a mask during cold and flu season. He was astounded that as a society we'd essentially knocked out the "regular" flu and realized with his age and some other health issues he may be more at risk.
While his partner had maintained her job, Armando was laid off. He looked for new work for quite some time, but found that a degree seemed more important to employers than his 10+ years of experience. To him, getting an education was the lesson he took away.
Kelli, a Beaverton city employee, has three older children. She talked about making sure they understood the importance of saving money, having some backup food in case there is a run on the local grocery store, and always keeping cleaning supplies and medications stocked up.
After seeing it all over the news and social media, Matt, an IBEW union representative, said he was a little disturbed at how many people didn't seem to know how to properly wash their hands. He now carries hand sanitizer in every vehicle.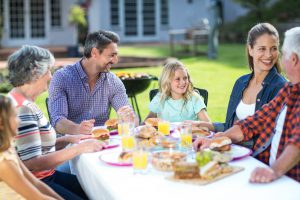 Michelle, a real estate agent, said she realized more people need office spaces, yards, and walker-friendly neighborhoods. She also discussed how important it was to live close to family and close friends, as many still socialized in "bubbles" during the lockdown.
Seeing her teenagers spending most of their day in bed on a laptop made Lindsay realize the importance of a daily routine and self-care. She started making them shower, get dressed, and work at a desk, and noticed almost an immediate improvement in their general attitude.
Shannon, a mortgage loan auditor, talked about how she and her partner were in Texas when Oregon shut down. Friends and family were lamenting that they couldn't find toilet paper or baby items. So they rented a car, stocked up, and drove home instead of flying. Her lesson to spread was just to help one another out, in whatever way you're able.
I think my biggest takeaway, besides everything listed above, is to always have something to look forward to. Not being able to plan a girl's night, or a birthday dinner with family, or a vacation, was difficult. I am someone who needs to socialize.
"Many elderly people especially were isolated and lonely. It's time to renew our sense of community."
COVID-19 is the new "where were you when" event. Many people are still recovering mentally, and sharing and hearing similar stories can really help. If it's safe, start making plans with your people again. Ask them where they were when their state shut down, what sort of things they couldn't find, and what they did to feel better about their situation.
Many elderly people especially were isolated and lonely. Again, if it's safe to do so, bring them a meal and strike up a conversation. Invite them over for coffee and check in. Go for a walk around your neighborhood and chat if you see them. It's time to renew our sense of community.
LTC Consumer is your resource for long term care planning. We assist families with a range of options to protect their retirement savings and prevent the physical, emotional, and financial tolls a long term care event can cause.
Learn how to qualify for LTC insurance and other factors that go in to the process of obtaining coverage.
You may be wondering, "What is long term care insurance and why might I need it?"
Find answers to popular questions in LTC.